Farmers Bloodhounds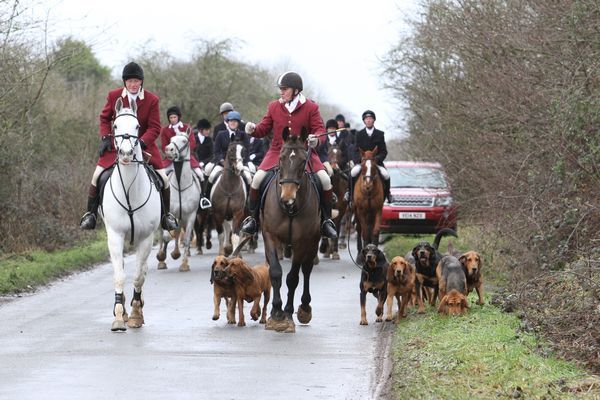 The Farmers Bloodhounds, hunt the Clean Boot.
Michael Lucas established the Farmers Bloodhounds in 1989, and was keen that the pack should exist to compliment Foxhunting across the South and West Midlands and not be seen as a replacement. Keeping strong links with foxhound packs is a recurring theme. A great majority of people enjoy both hunting the "clean boot" and following foxhounds.
It has always been made clear that supporting the blood hounds is another country sport along with fox hunting, shooting, point to point and fishing. It is important that all of us that enjoy the country way of life stick together in this time of political correctness.
The spirit of riding to hounds in this manner continues with today's Mastership of: Mr Brian Temple, Mr Jason Newbold and Mr Jamie Temple.
The hounds are housed in purpose built kennels at Plum Park Farm, the home of Mr and Mrs Brian Temple. We are deeply indebted to Marc & Ali Winchester of The Southern Shires Bloodhounds and Nick & Sue Wheeler of The Coakham Bloodhounds for drafting us hounds to enable us to re-form our pack.
The Farmers Bloodhounds are very fortunate to have the support of former Hunt Chairman & Master Sir John Aird. Sir John has always maintained a wonderful liaison with the Countryside Alliance.The Farmers Bloodhounds are firmly committed to increasing membership and welcome both adults and children to join in hound exercise and hunting. Hound exercising starts in mid August and consists of a quiet hack of about one and half hours, followed by light refreshments. These dates will be shown on the website.
Sunday hunting makes it possible to ensure there is no clash with fox hunting, which we very much support. The pace is generally quicker and there is more jumping to be done. Meets will be marked to show the standard of lines on the web site. For those that do not enjoy much jumping a second field master will provide an easier route across the country.
Owners of land crossed during a days hunting are invited to join us as our guests. All followers both mounted and on foot are invited to tea at the end of each day's sport, to join in the camaraderie. This gives all the followers a chance to mix and meet with their hosts.
Blood Hound Facts and Figures
Blood hounds hunt "Clean boot" – the scent of a quarry following a predetermined line (nothing dragged)
A days hunting consists of 2 – 3 lines, an average of 15 miles in total.
The country stretches from Northamptonshire through Warwickshire, Worcestershire and down into the Cotswolds.
Terrain varies but most days are on grass and consist of an average of 30 – 50 fences.
We ensure that there is a second field master to escort riders who wish to follow hounds taking a less demanding line.
Contact: P2P Secretary
Debbie Clarke Telephone: 07850 891015
Website: http://www.farmersbloodhounds.co.uk/